Nobel Biocare is a company which is said to be the pioneer of the dental implants. Their story begun in the late 1952. when the company's founder, back then a young scientist, Per-Ingvar Brånemark was studying the bloodstream of rabbits and for that reason he put a titanium part inside a rabbits bone for research purposes. Experiment was successful but when he wanted to take the implant out he noticed it had completely merged with bones around it. He then first used the term "osseointegration" for this phenomenon and started thinking about using it on humans unlike other scientists which noticed this before him. In 1965. he used the titanium implants on a human, with positive results. In 1978. Swedish authorities approved the use of dental implants on humans, and in 1981. the company Bofos Nobelpharma was founded, which is called Nobel Biocare today. The headquarters have been moved in the meantime from Sweden to Switzerland, but company was still the representative for dental inovations.
Designing for life. Learning for life. Partnering for life.
As pioneers of implantology, their role was of historical importance but also the future of inovations in dentistry from industrial production of implants to finding a way to fix the problem of missing teeth. Nobel Biocare is continuously working on improving teeth implants which they design so that the patients will have the best care.
Nobel Biocare has it's own 3D diagnostics, 3D planning and operation.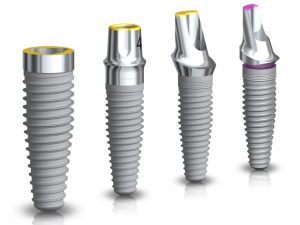 NobelParallel CC
NobelParallel CC  is a new type of implant that comes from this manufacturer. The idea that lead the Nobel Biocare researchers was making an implant whose installation will be very quick and efficient, to shorten the time between the installation and wearing a functional dental cap on that implant. Also, this type of implant enables solid implantation even to the older patients who have more fragile bones. NobelParalller Conical Connection as it's key advantage has stability from the first contact with the jaw.
Platform Switching technology is designed in a way so that the abutment is distanced from the bone. After putting pressure on dental caps during chewing there is a small amount of movement from the abutment in at the base of the implant. This kind of design was created to make bone loss smaller overtime, which is achieved by moving abutment from the bone, compared to older systems where implant – abutment connection is straight and can lead to a bigger bone loss around the implant.
NobelParallel Conical Connection – Nobel Biocare
Nobel Active
NobelActive enables large amount of stability and can be installed even in place of recently removed tooth. This implant allows immediate pressure. They are recommended for the aesthetic zone as their circumference is 3mm which makes them easy to be implanted in small spaces. Main characteristic of this type of implant is their oxidated surface "TiUnite" with grooves which maintain a high amount of stability and quick recovery.